2019 PBS TRAVELING LIBRARY DisPLAY
"CHANGE"
The 2019 Margaret Scovil Bead Challenge was to create a piece based on the theme "Change" The piece must be composed of at least 50% beads, and must be wearable.
Pieces from this year's challenge will be exhibited at the following venues:
2019 Schedule

October - Tigard (OR)
November - Vancouver-Three Creeks (WA)
December - Vancouver Downtown (WA)
January - Camas (WA)
February - Wilsonville (OR)
2018 PBS TRAVELING LIBRARY DISPLAY
"Out There . . . Extraterrestrials and Other Beings"
Imagine something not of this world, then make this being come alive using beads. That's what PBS members did this past year when challenged to create something extraterrestrial.
The 2018 PBS Traveling Display of member beadwork shows off alien figures with odd appendages and/or eye(s), spaceships, a dragon, and beings hidden in the clouds or possibly in your wall or the plastic garbage floating in the ocean.
Thanks to the 11 PBS members who are sharing their work for the display: Kim Baird, Karen Bettin, Susan Borts, Jill Gandolfi, Mary Gobet, Marilyn Grock, Pamela Jensen, Linda Olsen, Teresa Shelton, Merle Sherman, and Maxi Starr.

Karen Bettin, Coordinator
PBS Traveling Library Display
2017 PBS Traveling Library Display
"The Animal Within"
From bears to butterflies and mythical dragons, too, the animal within has become visible in beads. The 2017 PBS Traveling Library Display features 13 pieces inspired by a favorite animal, totem, symbol or a beast created in the mind.
This is recent beadwork by PBS members Kim Baird, Karen Bettin, Marilyn Grock, Andrea Hanmann, Pamela Jensen, Juanita Garnow Olson, Maxi Starr, Linda C. Olsen, Carol Perrenoud, Teresa Shelton, Merle Sherman, Janis L. VanWyhe, and Cynthia Talbott-Nelson.
Most of the artists brought their animal to life using either the peyote stitch or bead embroidery. Seeing all of the pieces together demonstrates the versatility of these bead stitches.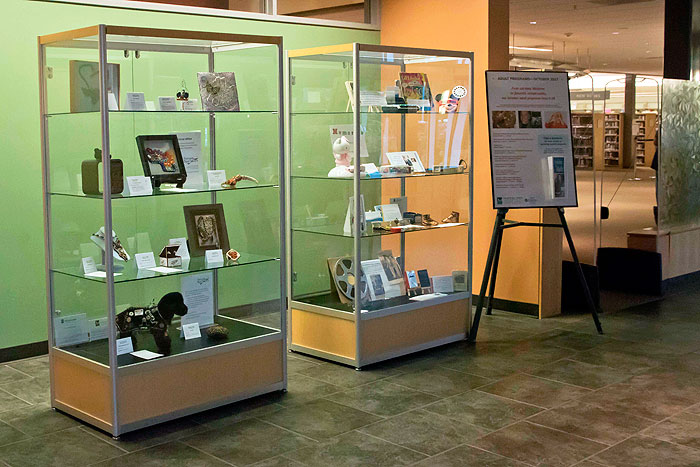 Tigard Library - PBS Traveling Library Display 2017
The Uncaged Bird by Andrea Hanmann
Ruby's Steampunk Vest by Carol Perrenoud
Grizzly Bear by Janis L VanWyhe
Dear Me by Juanita Garnow Olsen
Taking Flight by Karen Bettin
VooDoo Magic by Kim Baird
Viens Siksts Lacis by Linda Olsen
Blue Dragon by Marilyn Grock
Kaleidocycle by Maxi Starr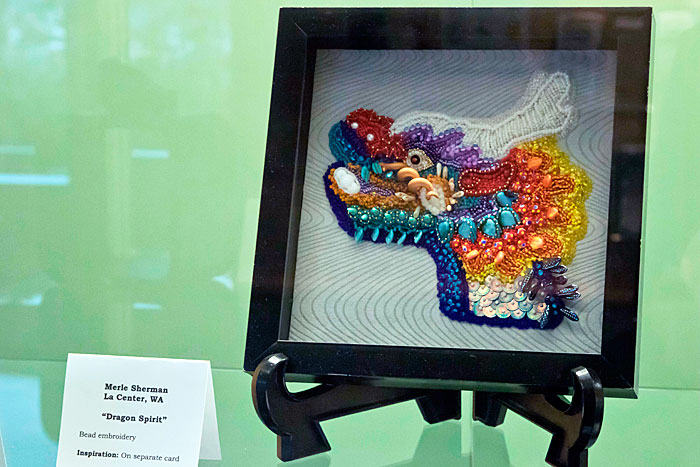 Dragon Spirit by Merle Sherman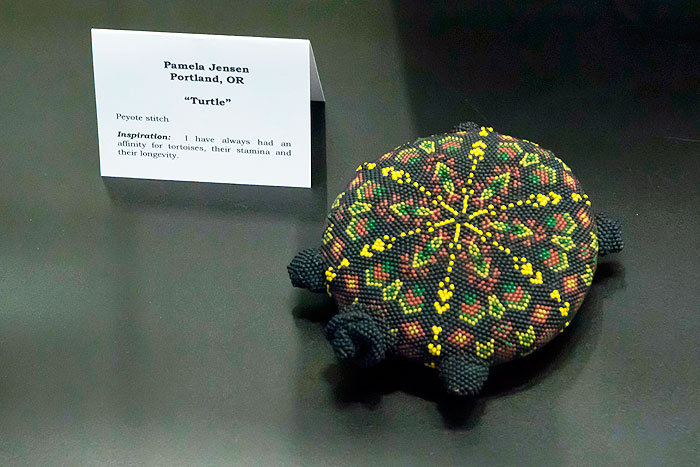 It's Dark in There by Teresa Shelton
2016 PBS Traveling Library DISPLAY
Theme - Wassily Kandinsky's painting "Blue Segment", 1921
The beadwork in the 2016 show highlights the creativity which emerges when a challenge stretches some artists and liberates others. The theme of the display is wearable beadwork inspired by Wassily Kandinsky's "Blue Segment", 1921. Whether inspired by his shapes and colors, the music which came to mind when looking at the painting or the feelings evoked, a delightful collection of beadwork emerged. From representational pieces to new abstract creations, you will enjoy a bead adorned hat, different styles of bracelets, a wide range of necklace designs, a ring and even a fascinator.
We are happy to include 12 pieces in this show. Thanks to the following bead artists for participating in the display: Kim Baird, Karen Bettin, Susan Borts, Pamela Jensen, L. Kasey Klaus, Carol Perrenoud, Rose Rushbrooke, Teresa Shelton, Karmen Schmidt, Merle Sherman, Maxi Starr and Janis VanWyhe.
2015 PBS TRAVELING LIBRARY DISPLAY
The theme is "It's A Northwest Thing"
2014 PBS TRAVELING LIBRARY DISPLAY
The challenge was to "Bead a Fairy Tale"
2013 PBS Traveling Library Display
Theme: Non-Traditionally beaded necklaces
The challenge posed to PBS artists was to create a necklace using materials or techniques they do not ordinarily use.
2012 PBS Traveling Library Display
Theme: "Bead A Bird"
Copy of What the ?!
Artist: Cherie Calewart
Description: Right angle weave, peyote, herringbone, bead embroidery, stringing
Copy of Goldfinch and Calendulas
Artist: Carol Perrenoud
Description: bead embroidery
Copy of flock
Artist: Various
Description: various
Copy of Phoebe Bird
Artist: Jennifer Gallagher
Description: Right angle weave, peyote, herringbone
Copy of The Bird of Paradise
Artist: Joy O'Hearn
Description: peyote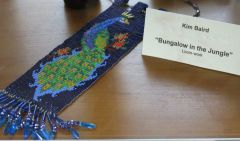 Copy of Bungalow in the Jungle
Artist: Kim Baird
Description: peyote
Copy of The Peeps
Artist: Karen Bettin
Description: Right angle weave, peyote
Copy of Mr. Angry
Artist: Karie Hieb
Description: peyote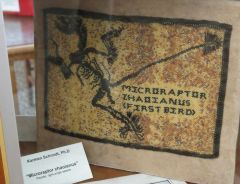 Copy of Microraptor Zhaoianus
Artist: Karmen Schmidt
Description: Right angle weave, peyote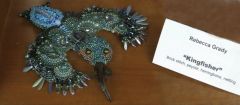 Copy of Kingfisher
 Artist: Rebecca Grady
Description: Brick stitch, peyote, herringbone, netting